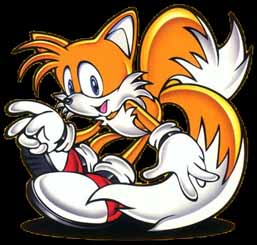 Japanese Name
マイルス・テイルス・パウアー
Romanized Name
Mairusu "Teirusu" Pauaa
Full Name
Miles Prower
Nick Name
Tails
Species
Fox
Color
Orange
Eyes
Blue
Age
8
Birthdate
October 16
Height
80 cm
Weight
20 kg
Residence
Westside Island & Mystic Ruins
Likes
Mint Candy, Machine Maintenence
Dislikes
Thunder
Abilities
Speed, Spin Attack, Spin Dash, Heli-Tails, Hyper Heli-Tails, Flying, Swimming, Tail Attack, Rapid Tail Attack, Expert Mechanic
Weaknesses
Talks too much... -_-;;
Weapons & Items
Bombs, Remote Robot, Hammer, Helmet, Night Vision, Super Glove, Jet Anklet, Rhythm Badge, Tornado 1, Tornado 2 (aka: the "Cyclone"), Whirlwind S7, Sea Fox, Booster, Bazooka, Laser Blaster, Mystic Melody
Summary
Born on the mysterious Westside Island, Miles Prower has never been just an ordinary kid. Most notably, he was born with two tails, earning him the nickname, "Tails". The other animals on Westside Island always made fun of Tails because of his unique oddity, and as a result Tails had been a very shy kid; that is until he met Sonic.

When Sonic had first come to Westside Island, Tails immediately hid behind a tree. But after he saw Sonic running so fast, he knew he just had to keep up. He began to race Sonic around the island, that is until he saw it parked on the beach. This mechanical monstrosity was the most beautiful thing he had ever laid his eyes on. What he saw, was Sonic's plane, The Tornado, with which Tails, with his knack for mechanics, fell in love with instantly. Since then, Sonic and Tails have bonded like glue.

One of Tails' most unique abilities by far is his ability to use his two tails to fly like a helicopter rotor. Tails uses this special little technique not only for himself, but to carry Sonic around as well. He also uses it to propel himself when at top speed, floating over the ground. Tails can use the technique offensively, too, flying up into an enemy or whirling his Tails when on the ground. Tails is also unusually intelligent for his age and his talent with machines is equal to Eggman's. When Tails gathers the 7 Chaos Emeralds in their "super" forms, he can become Super Tails. In this form, Tails is basically just invincible, but he does seem to attract four "Super Flickies" who appear to give him a hand.
Notable Quotes
I wanna fly high so I can reach the highest of the heavens. Somebody will be waiting for me, so I have gotta fly higher!
Associations
Mentor & Best Friend: Sonic the Hedgehog
Friends: Amy Rose, Knuckles the Echidna, Cream the Rabbit, Mighty the Armadillo, Espio the Chameleon, Charmy Bee, Bark the Polarbear
Enemies: Dr. Eggman, Fang the Sniper, Metal Sonic, Metal Knuckles, Tails Doll, Eggrobo