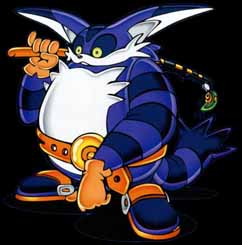 Japanese Name
ビッグ・ザ・キャット
Romanized Name
Biggu za Katto
Species
Cat
Color
Purple
Eyes
Yellow
Age
18
Birthdate
December 23
Height
200 cm
Weight
280 kg
Residence
Mystic Ruins
Likes
Fish, Kaeru-kun (Froggy)
Dislikes
the harsh realities of life...
Abilities
Fishing, Swimming
Weakness
His Large Size, Speed
Weapons & Items
Fishing Rod, Power Rod, Life Belt, Lures
Summary
Many people think of Big's character as simply dumb and lazy. That's probably the worst way to describe him. Big desires the same thing we all want, to live a care-free life, and does what he can to live it. A life, or course, we could all tell him is impossible to obtain. But nontheless, he tries to avoid the hustle and bustle that comes with an eventful life.

Big perfers to stay out of trouble, and spends most of his time in the Mystic Ruins, fishing and hanging out with his best friend Kaeru-kun (Froggy).
Associations
Best Friend: Kaeru-kun (Froggy)