Wondering what's going on with new Sonic toys?
ReSaurus has released new pics of the toys, specifically some production shots of E102 shown above and more which you can view by clicking the picture. The second wave isn't set to hit stores until sometime in June/July. Here we have some early sculpt shots of E-102, the robot who develops a conscience and turns against his boss, Dr. Robotnik, in the game. According to Reasaurus - The final piece looks a bit different, particularly in the head, which was revised before the tooling patterns were sent to the factory.
Series Two will include: a new Sonic the Hedgehog (on skis), the ever adorable Amy Rose (pictured below), Big the Cat and the robotic E-102. Each figure comes with it's own unique display stand. Click the source code below to view more of the toys as well as the model bases.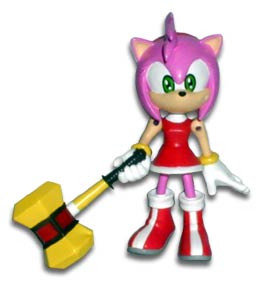 Source: Raving Toy Maniac