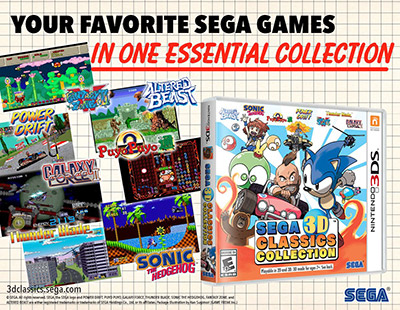 This is the second collection released in Japan, now coming to America under the name Sega 3D Classics Collection. It's set for release on April 26 for just $30.
It contains five arcade games (Fantasy Zone II W, Galaxy Force II, Power Drift, Puyo Puyo 2, Thunder Blade), two Genesis games (Altered Beast, Sonic the Hedgehog), plus two Master System games (Fantasy Zone II, Maze Walker).
Power Drift and Puyo Puyo 2 haven't been released on the eShop as solo games, so they'll probably be exclusive to this collection for a bit.
Hey, maybe if this one sells well, they'll release the first collection as Sega 3D Classics Collection 2! Wouldn't that be confusing...